Tandem growing and needs you to get there
Tandem Studios Is Growing 
From our beginnings as a music and audio studio in 1974, Tandem Studios has always been a major part of the music and advertising scene in Christchurch. Since those early days the business has evolved to become a leading content creation company now working across New Zealand.
The Start Of Social Media 
YouTube started in March of 2005 and that year we quickly discovered the joy of making videos and having a social network like YouTube to share videos and to build an online profile. Tandem loaded its first video into YouTube in August of 2005 and since then we've uploaded well over 40,000 videos to become one of the largest creators of online content in New Zealand.
That same year, and being geeks and wanting to make radio shows to put on the internet, we discovered podcasting and have now become leaders in the creation of podcasts. Tandem's '2005 NZ Election Series' Podcasts was a world first! Since then we have created numerous podcasts for companies such as MiNDFOOD Magazine and SLI Systems. Most recently Tandem Studios joined with Fairfax Media (Now Stuff) to create the No 1 hit podcast 'Black Hands'. This podcast was No 1 in NZ, Australia and in the UK and has had well over two million downloads.
Today Tandem has a base in Christchurch, Wellington, Auckland and Sydney and works with clients throughout New Zealand and Australia. Our services cover Video Production, Audio Production and Live Streaming of events, meetings and conferences. From those beginnings of audio and music we have grown into a national company that produces a large variety of content for today's multi media and social channels.
It's our experience and approach to creating content that brings existing customers back and attracts new clients. Today in marketing and communications all businesses and organisations need content on a consistent, on-going basis that is cost effective and importantly connects with their online audience in the way that they want to engage. 
Tandem has got to this point by not being afraid to try or develop new ideas and by growing as media has changed. Today we have a very good sense of who we are, what we do and above all what our clients want. It's this growth in digital marketing that is driving us to hire the right people to continue to grow the studio and to focus on producing great content for our clients. 
From those days in 2005, we have been through world wide reccesions, earthquakes and a continiously evolving and changing media. Along with my role as Managing Director I have also been the senior producer of numerous projects and lately I've discovered the wearing of too many hats diverts attention. So it's time for a change.
New Roles at Tandem - General Manager and Production Assistant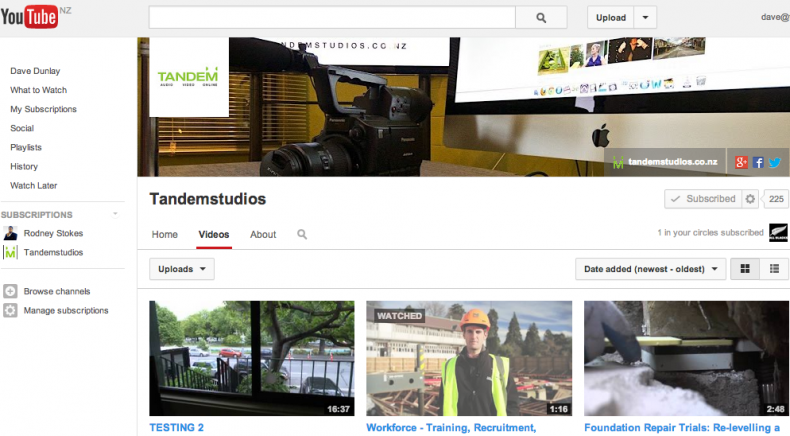 I love making stuff! Thats why I love my job and at Tandem Studios we make a lot of stuff from television shows and commercials to online videos and live streaming through to podcasts and lots in between. From my experience in tradtional media, and now 12 years of working in digital media, my strengths are in production. So I'm parking one hat of Managing Director to wear just the one of Senior Producer. Doing the fun stuff:)
As part of our on-going embracing of change we are looking for a General Manager to lead and grow Tandem Studios. This person will have to have a passion for our clients, the work we do and importantly develop the existing team to help grow Tandem Studios into a studio where people want to come to work, play and create. That is our goal.
Success will be measured on our service, creativity, quality of work, client satisfaction, team culture and profitablity. Here is the link to the job details on SEEK.
The second new role is that of Production Assistant. This role is a key and important link between marketing and client account management and that of the production team. This person will be well organised but flexible due to the nature of working in a fast moving, quick turn around content studio; the whole time keeping a smile on their face:) Here is the link to the job details on SEEK
We are lucky to work in a creative industry where today you might be live streaming an event, tomorrow producing a podcast and the next day creating an online video. It's a fun place to work with a team that takes pride in what we do and above all we get to make stuff! So come and help us make all sorts of stuff and enjoy the ride.